---
A K M Khademul Hasan
Name: A K M Khademul Hasan
Position: Senior Database Administrator (DBA)
Company: Modhumoti Bank Ltd
Course: DDD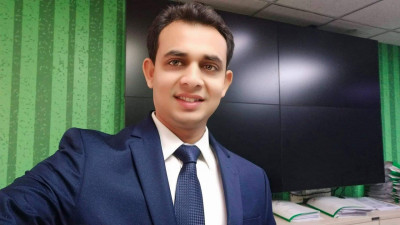 While studying Physics (Honours) at Dhaka College, A K M Khademul Hasan realized that there were only a handful of jobs in the country for Physics graduates that were actually related to Physics. As far as he could gather, the Bangladesh Meteorological Department, Atomic Energy Commission, the teaching profession and a few scientific labs were the only noteworthy options available to graduates of Physics interested to pursue careers in their field.
During his Master's studies, Khademul made up his mind to switch his career to the field of information technology (IT) though he knew very little about this sector. He only knew this much – information technology was one of the growth sectors in Bangladesh and offered excellent job prospects to competent individuals.
"I took part in the course 'Database Design & Development' under the IsDB-BISEW IT Scholarship Programme. When the classes for the database course began, I was a bit nervous since I had no previous background in IT. To my surprise, I found that the course was designed precisely for students like me who were venturing into IT for the first time. The ready help provided by the instructors and the lectures and lab work helped me overcome my initial fear."
"I got my first job offer fifteen days before completing my training course" remembers Khademul. His first step in the professional world of IT started as an intern at Spectrum Engineering Consortium. Within six months his position was confirmed in the organization as a Junior Database Administrator. Khademul came to appreciate the work culture of the organization as he got many opportunities to learn new tools and technologies related to the Oracle database platform. "I used to reach office at 7 AM, i.e., at least two hours before anyone else. These extra hours enabled me to learn many new skills and earn several online certifications related to the Oracle database. The habit of intense study I picked up in the IT Scholarship Programme was partially responsible for this extra effort I gave to my job. This helped me get ahead in my career."
Khademul is currently serving as a Senior Executive Officer at Modhumoti Bank Ltd and his role is that of Database Administrator (DBA). He is responsible for properly administering and maintaining the database that powers all the banking services. It is a big responsibility but he enjoys the job. He lives in Gulshan with his family.
He feels that the IsDB-BISEW IT Scholarship Programme was instrumental in his success as an IT professional. His advice to students who have completed their graduation is "If you have an interest in IT then you should aim for the IT Scholarship Programme. There is no comparable training programme in Bangladesh that not only provides you with free professional training but also a lasting career."