Md. Sheikh Nasim
Name: Md. Sheikh Nasim
Position: Senior Programmer
Company: Star Ceramics Limited
Course: DDD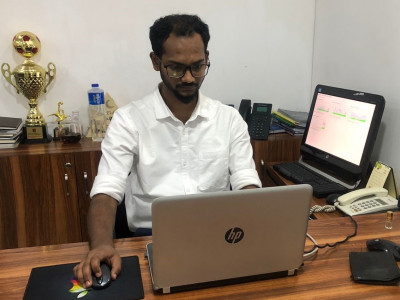 Sheikh Nasim had always been curious about computers and information technology. But he never got the chance to study IT. Living with his family in Barisal, Nasim studied Sociology (Hons) at BM College and was quite apprehensive about his career prospects as his Honours finals drew near in 2015. After completing his Honours, the future seemed uncertain and bleak for Nasim. Government jobs, BCS exams, etc. were the choices available to him. However, he knew very well how competitive these exams were. He realized that his academic degree and background gave him no advantage whatsoever in the job market. Furthermore, the prospect of a career in bureaucracy did not excite him at all.
After his exams, Nasim started preparing for the BCS exam but without much enthusiasm. That is when he met a family friend who worked in an IT company. He came to know about Nasim's interest in IT and advised him to apply for the IsDB-BISEW IT Scholarship as he had come across many graduates of the IT Scholarship Programme in the industry and was impressed by their quality of work. Feeling that he had nothing to lose (the application fee was Tk. 100 only) Nasim went ahead and applied for the scholarship. He sat for the admission test and was fortunate enough to be selected for Round-30 of the IT Scholarship Programme.
At the beginning of the training programme, Nasim had doubts about whether he would be able to understand the subject matter of IT as it was a completely new field for him. But with the cooperation and assistance from his course instructor coupled with his hard work and dedication, Nasim successfully passed all exams and completed the 12-month course specializing in Oracle database development. He attributes his successful completion of the course to the unique training delivery model used in the scholarship programme. The model enables a trainee with no prior IT knowledge or skill to successfully master all the required skills taught in a course.
Nasim is now working as a Senior Programmer in Star Ceramics Limited a Bangladesh Lebanon Joint Venture and one of the largest ceramic tiles & Sanitaryware manufacturing company in Bangladesh. He is currently handling complex Enterprise Resource Planning (ERP) projects for his employer. His boss at the company is also an IsDB-BISEW graduate. Nasim views his decision to join the IT Scholarship Programme as a momentous one that gave him a successful career and the satisfaction of working in the rapidly expanding field of information technology.