The Road to a Career in Networking – Mahtab's Story
Name: Md. Mahtab Alam
Position: Specialist, ERP System Management
Company: Robi Axiata Limited
Course: NT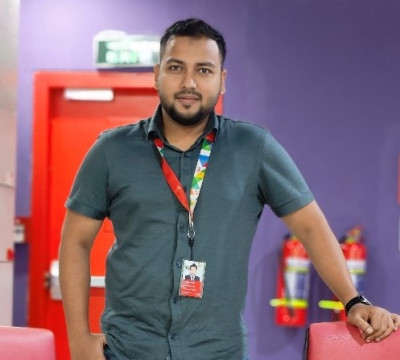 ID: 1245138
Round-38
A casual glance outside from the window of a running bus proved momentous for Md. Mahtab Alam. Mahtab was studying mathematics (Honours) at Titumir College and during his bus ride to his college, a large banner on the IDB Bhaban complex used to catch his attention. The banner displayed information about the IsDB-BISEW IT Scholarship Programme. This information stuck in his mind.
Mahtab went on to complete his bachelor's degree. He had always nurtured an interest towards the exciting field of information technology and the career opportunities it offered. Earlier, when applying for admission for a bachelor's degree programme, he tried his luck in getting admission into computer science but without success. Financial hardship did not allow him to get admitted to a private university.
Having completed his bachelor's in mathematics he was ready to switch his career and education track to IT. His seniors in the college had given him some additional bits of information about this scholarship programme. Mahtab realized that this was his opportunity to switch to a career in IT. Immediately after finishing his master's degree, he applied for the IT Scholarship Programme and passed the required aptitude test and the interview. Mahtab was selected for the scholarship in Round-38 and was assigned the course Networking Technologies.
Training in the IsDB-BISEW IT Scholarship Programme was tough but Mahtab enjoyed the challenge. He successfully completed the course and also became a Microsoft Certified Solution Associate (MCSA). After completing his training, he did a paid internship at Metafour Asia for six months where he picked up useful skills in cloud technologies, e.g., cloud infrastructure and Docker/Kubernetes.
Mahtab was eventually selected as an IT Specialist at Robi Axiata Limited in 2022. His current responsibilities include monitoring and managing the SAP BASIS ERP platform. He also administers the Linux servers at Robi. Mahtab is highly satisfied with his job and is paid a handsome salary. Mahtab feels that the IsDB-BISEW IT Scholarship Programme was instrumental in guiding him from the field of mathematics to the exciting and rewarding world of information technology.