A Dream Come True – Braving the Odds in the Job Market
Name: Shafiqul Islam
Position: Software Engineer
Company: Axel Springer National Media and Tech
Course: WDPF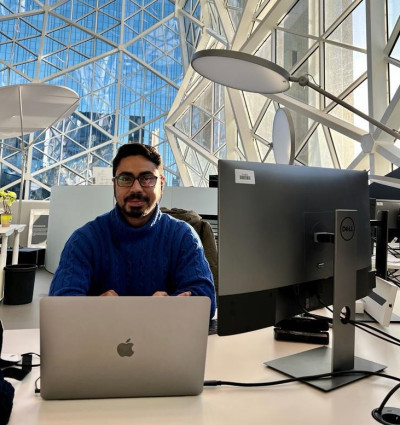 My name is Shafiqul Islam, and I am currently living in Germany. I am working as a Software Engineer at Axel Springer National Media and Tech.
I have been passionate about computers since an early age and wanted to study Computer Science Engineering (CSE). However, due to my family's financial constraints, I couldn't study CSE and decided to study English Literature at National University instead.
During my graduation days, I was getting frustrated day by day thinking about my future and my career. I was born into a lower-middle-class family and so I always had to think about how I could support my family.
In 2014, after completing my graduation, I applied for the IsDB-BISEW IT Scholarship Programme and got selected for the course Web Presence Solutions & Implementation (WPSI) in Round 24.
The course was more than 12 months long and concluded in February 2016. The curriculum of the course was well-designed and had many important topics that were in high demand in the job market. It was a very challenging course and the exams were also very tough.
But with passion, commitment and hard work I always managed to be one of the top performers in my batch. It wouldn't have been possible for me to complete the course successfully if I had not received continuous support from our consultant, instructor and batch mates.
I immediately got my first job after the course. But the job didn't last more than 3 months. After that, I couldn't find any job for the next 5 to 6 months. The situation was very difficult back then and I slowly started losing hope and dream of working in the IT sector.
But with the help of Allah, I got my second job in a startup company. But the salary was low and it was very difficult to support a family on the salary I received. But I had already learned a hard lesson that it is better to have a low-paid job than to be jobless.
In 2017, I joined another startup where I had the opportunity to learn and work with new technologies like Angular 4, TypeScript, Material Design, Bootstrap 4, etc. With hard work and effort, I learnt the new technologies and my skills and knowledge improved a lot. And because of my superior performance, I managed to get a decent salary.
In 2020, during the pandemic and lockdowns, I got a remote job at an Albanian IT company. While working at this company from home, I was searching for a job with relocation support in Europe. I applied for many jobs on LinkedIn but didn't even get any response from most of them I. I didn't give up. Rather I kept on trying, building up my portfolio and preparing for the technical exams.
With consistent effort, I started getting some interview calls but couldn't pass the technical rounds. I learned from the mistakes that I made during the technical tests and tried to improve my skills and knowledge. I also learned a very important lesson that knowing technical stuff isn't enough. I also need to know how to present myself and try to sell my skills and knowledge efficiently. So, both soft skills and technical skills are required to get a job in the international job market.
Finally, I found a job offer by applying all the knowledge and experiences that I gathered from my previous interviews and tests. The interviewers were from the same team where I am currently working. They were impressed by my performance during the interview and were very happy to have me as their teammate.
Getting an opportunity to work within an international team in a big European company is a great achievement in my life. I believe nothing would have happened if Allah wasn't kind to me. I also believe that if I can do it, then anybody can.
I am grateful to the IsDB-BISEW IT Scholarship Programme, the consultant, the trainer and my batch mates. Because this was where my dream journey started.